Bicycle trailer with E-drive for use on bicycle and pedelec
for commerce, craft and sharing
e2trail breaks the boundaries of conventional bicycle trailers. The combination of decades of design experience with a great passion for bicycle trailers has resulted in an unbeatably compact and highly compatible system solution with e-drive. The trailers can be used on bicycles and pedelecs, or as a handcart. On the Lifter model, the rear axle can be disengaged and used as a sack truck.
e2trail in practice
Here you can see how the pick-up of a load works with our model "Lifter". In less than 1 minute, the load is transferred from the ground to the bicycle.
The lifter: your all-rounder
Lift function, integrated sack truck and optional pick-up extensions
Lifter with disengaged rear axle that can be used as a sack truck.
Integrates into existing logistics systems: fits everywhere where Euro pallets and similar standardisations are used
Picks up cargo from the ground: Palletised freight, mesh boxes or swap containers
Becomes a hand truck: for the last metres into the building
Fits many common containers: Compatible with Euro pallets, Euro boxes, many container and light pallet systems and more.
Extremely manoeuvrable and space-efficient: total width 80cm
Also available without e-drive

Pickups with XL capacity
Loading areas up to 160 x 100cm and practical add-on modules
The pickup is only 100cm wide despite a loading area of LxW 160x100cm.
Extremely large loading platforms: 160cm long, 80 or 100cm wide
Nevertheless small vehicle width: like the loading area, 80 or 100cm
Many fastening options: Lashing strap eyes and attachment points for every load
Load with excess width or excess length possible
Dropside and hoop system with tarpaulin: expandable in no time with system superstructure
Also as extension for model Lifter: quick conversion by changing rear axle and pick-up plate
Also available without e-drive
The base for mobile businesses
Load surfaces up to 160 x 100cm and practical add-on modules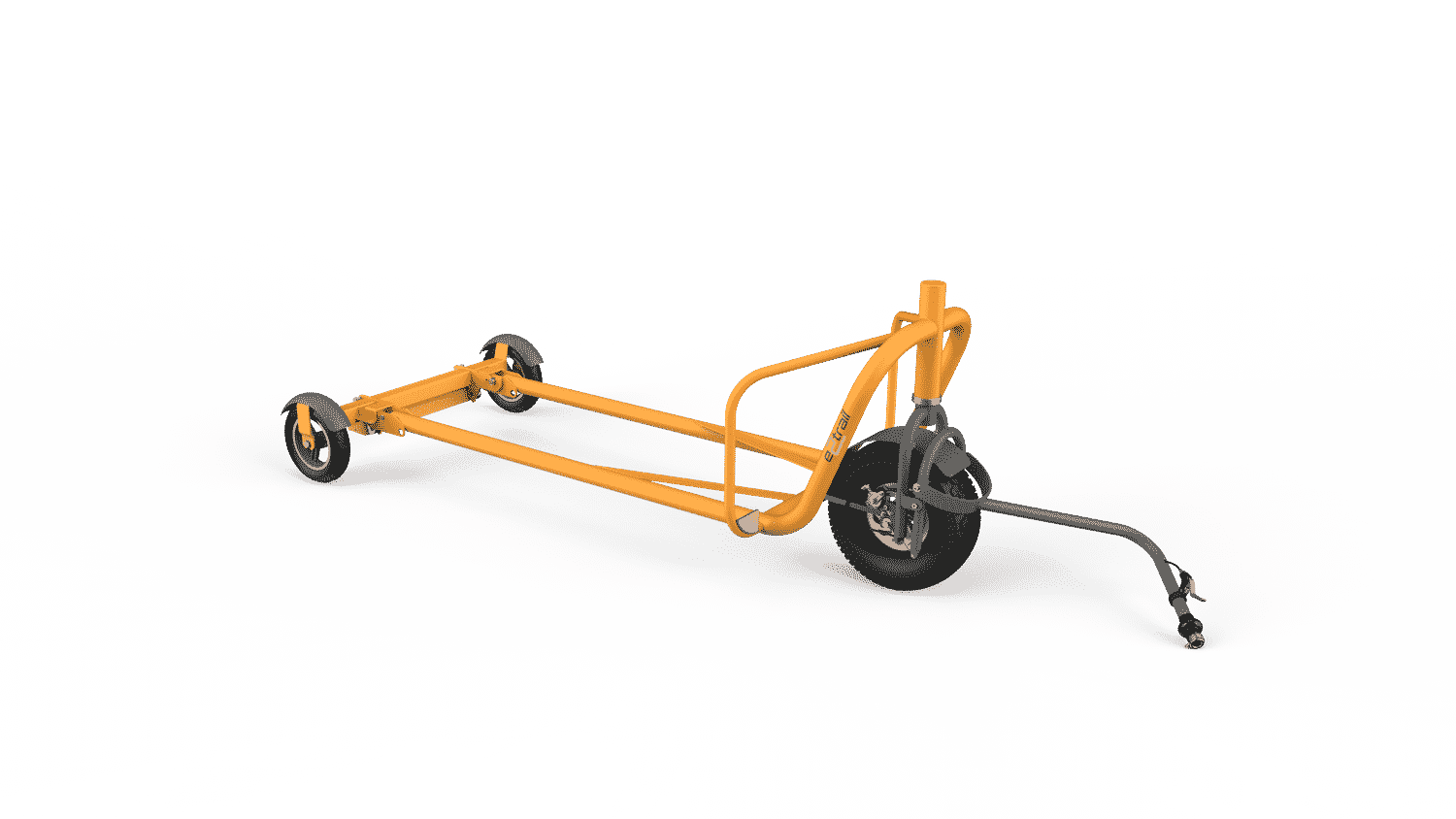 "Base" is the ideal chassis for the realisation of mobile commercial units with floor areas up to 160 x 100cm and even beyond.
Robust chassis for mobile commercial solutions
Superstructures up to 160cm length and 80 / 100cm width
Individual chassis designs possible
Support in the realisation of individual solutions
Also available without e-drive
Implementation example "Mobile Bar
Trailers with system advantages
e2trail trailers are system trailers. Due to the adaptable coupling and the orientation towards standard formats, the trailers can be easily integrated into existing transport and logistics systems. At the same time, a comprehensive range of system accessories is available for the trailers. This makes it possible to open up further application possibilities and achieve compatibility with non-system freight formats.
heavy-duty
Payload 200 kg and more depending on model & equipment
high load capacity
up to 1.6sqm loading area, excess lengths possible
Compact and manoeuvrable
 Fits on cycle paths and between bollards
Flexible and compatible
Suitable for many common freight formats
secure
Engine brake and mechanical overrun brake
licence-free
No driving licence necessary
* We ask for your understanding that prices on the e2trail homepage are provisional and non-binding due to the current situation.